Best Lifestyle Running Sneakers- Top 10 Picks With Advantages and disadvantages.
Today we are counting down the top 10 best lifestyle running sneakers for 2023. So, this is the list that I have done. And the reason I have done it so much is that it's the exact kind of list that I would be searching for if I was looking for lifestyle running sneakers.
And what I mean by lifestyle running sneakers are shoes you can run in the morning and wear to work and other places with any type of clothes. It's a kind of shoe that is super versatile for both casual runners, performance runners, or people who even don't run just want comfortable sneakers.
For this list, I really try to focus on running sneakers that also look great for just casual everyday wear and not so much better comfort but most of the shoes on this list are also pretty comfortable. 
In fact, I have almost got all of them to lay down in front of me and if you are weird about the comfort you don't have to be weird. Because I wear all these shoes and they're incredibly comfortable. 
And the final thing that I want to talk about before I actually dive into the main topic was the fact this list is really Impractical order. Yes, it is top 10 but the reason I made it top 10 is that it's clickable. I am not gonna lie about those guys. Everyone's feet are different which means everyone's preferences for footwear are also different. 
So, for that reason don't feel bad buying number 10 on the list vs 1 because honestly, it's different for different people.
If you don't have the time or desire to read the entire article, you can take a look at the list.
Each one of these 2023 Lifestyle Sneaker Releases was selected for its versatility and performance! The Top 10 Best Lifestyle Running Sneakers of 2023 list includes Nike, New Balance, Adidas, Brooks, Hoka, Asics, and more! 
Lifestyle
Comparison
Price

Nike Pegasus 38

Outsole: Rubber
Midsole: React foam

Nike Invincible Run

Outsole: Waffle
Midsole: ZoomX

ASICS Novablast

Outsole: AHAR Plus
Midsole: FLYTEFOAM BLAST

ASICS Novablast 2

Outsole: Rubber
Midsole: foam

adidas UltraBoost 21

Outsole: Continental Rubber
Midsole: Boost Foam

adidas UltraBoost DNA

Outsole: Continental rubber
Midsole: Ultracushioned

Brooks Glycerin 19

Outsole: Soft rubber
Midsole: DNA Loft foam

New Balance 1080 v11

Outsole: forefoot rubber (Herringbone)
Midsole: Fresh Foam

Nike Vaporfly Next 2

Outsole: full-length rubber
Midsole: ZoomX

Hoka Clifton 8

Outsole: Durable rubber
Midsole: EVA

Adidas 4D FWD

Outsole: Rubber
Midsole: Digitally Printed

New Balance 2002 V1

Outsole: N-ergy shock
Midsole: ABZORB
---
The 10 Best Lifestyle Running Sneakers Review
Let's jump bright into the first shoe on the list.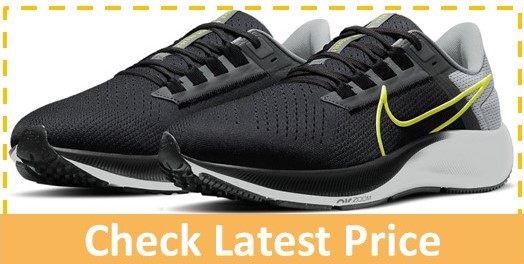 And then finally rounding after days list in the number 1 spot we have got the Nike Pegasus 38.
So the reason this shoe is in the number 1 spot on this list it's because, in my opinion, it's the perfect balance of comfort, performance, and also price. This shoe is the cheapest shoe on the list.
The Nike Pegasus line has always been a go-to for runners for the last 38 years. And the Nike pegasus 38 is just another incremental improvement on an already excellent running sneaker.
Now some of you might have noticed I don't have the regular version of this shoe, I picked up the flys version, and that's the shoe you guys Nike actually does have an option for people.
On this version of this shoe, you have a zippered entry that makes it very easy to quickly get on and off. They also have a very easy no-tie or tightening system which secures the fit using only one hand. It's super easy to wear.
It's also a slightly wider version than the standard version so it makes it even easier to get into the shoe. I love the thought that Nike is focusing on accessibility for all people and not just people who couldn't tie their shoes. I think that's really really cool.
Also, the foam tongue of this sneaker helps reduce pressure on the top of your foot. The Midfoot webbing of this sneaker secures your foot when you tighten the laces for a snug fit and feel. And the fact that Nikes making one of their best running sneakers is more accessible, I think it's really great.
So one of the reasons I love the Nike Pegasus 38 is the midsole. And that's because the majority of the midsole is made up of Nike React which is a very soft cushion underfoot. It's not as soft as Nike ZoomX, but it's honestly a batter for everyday running.
While ZoomX is great for race days this is a much more durable cushion and it's still soft enough to get you to throw the run and honestly feel great underfoot. But it's not ever gonna bottom out on you or ever feel unstable.
Something else I really love about the Pegasus 38 is that there's actually a pretty large Zoom area unit in the forefoot. Which really propels you into the next step or bounces you into the next step. Nikes this shoe is a very easy shoe for running. I love that about it.
And then when you pair that with this very breathable engineered mesh upper which is relatively well padded, especially around the ankle area you get a very capable running sneaker that's incredibly comfortable on foot both for running and lifestyle wear.
I just think it's such a great everyday sneaker that you can run in the morning, go to the office, although the office is often closed due to the current situation or you can do whatever you want. It's a good-looking sneaker and It's well priced.
I think it's definitely a shoe that is worth picking up. And if you are looking for a great do-everything sneaker and you like Nike this is the shoe to go with.
For your kind information, we want to let you know that we also have a detailed review of Nike pegasus 37.
---
So Coming in at number 2 is one of my favorite sneakers overall sneakers of 2023. And that's the Nike ZoomX Invincible Run. 
So the reason I love this sneaker so much is not because of how it looks, because honestly, I think this shoe is pretty ugly but it's because it's probably the most comfortable shoe I have ever worn. 
This shoe is just so incredibly comfortable underfoot. It's not, it's mind-blowing. So as far as performance running is concerned the invincible runners definitely moreover a covered running sneaker.
I actually wear this shoe primarily just for lifestyle wear because of how soft it is underfoot. And the reason that this shoe is so soft it's because they use a full-length ZoomX midsole. 
This ZoomX is just stupid soft and on like the ZoomX Vaporfly Next% 2 which is we talked about earlier on the list. This shoe doesn't feature that carbon fiber shank plate under your foot.
So actually feel the ZoomX directly under nit your foot and it's like you're walking on crazy soft pillows or your foot is surrounded by just amazing knits because the upper is also pretty well padded and it's primarily fine. 
Which means it's gonna be very breathable and very soft. But really the main reason why this shoe is so comfortable is because of the ZoomX midsole and because it is so thick underfoot.
I mean honestly, this shoe might grow on every other shoe for you because of how soft it is. Like, I wear the UltraBoost 21 immediately after wearing this shoe for a couple of hours. It may make the UltraBoost feel like walking on wood. It was not, I couldn't believe it. 
If you are looking for the most comfortable shoe on this list and just the most comfortable shoe in general this is the one to grab.
Check Price Amazon
---
So next step at number 3 we got the ASICS NOVABLAST. But keep in mind there is actually Novablast 2 coming recently. Actually, Novablast 2 is the upgraded version of Novablast. 
So the ASICS NOVABLAST is kind of a hit among ASICS fans. In Fact, these shoes were so popular last year that they were not easily available. This shoe is one of the most popular shoes of ASICS. I think there's actually a lot of reasons for that. 
And the first and probably the biggest reason is this crazy FF Blast midsole. So the flyte foam ASICS in this midsole makes this shoe incredibly underfoot. It's definitely a maximum cushion sneaker. And I think if you like that sort of soft bouncy feel you gonna love this shoe and this is probably one of the softest and bunches sneakers on the list. 
I also really like the aggressive aesthetic of this midsole. It's very sharp, it's very angular, and you can buy this shoe in different midsole colors. I think it's one of those midsoles that really draws people's attention and really makes it look like a very fast-running sneaker. 
In addition to the crazy soft midsole cushion you also got this great mesh upper which is pretty soft and also pretty lightweight. There is some padding under the ankle area and heel of the shoe. But it is relatively minimal when compared to some of the other shoes that have padding on this list. 
Of course, there are some knitted sneakers on the list like the UltraBoost 21. It really doesn't have any padding on the upper but this would have more than those but less than maybe the Brooks Glycerin 19. 
But when wearing this shoe I don't miss the extra padding on the upper. I feel like they give you just enough. It's a very comfortable shoe. It's very breathable and for an upper, it's pretty lightweight.
When you feel flyte foam underfoot it's gonna blow your mind. It's crazy soft, it's crazy bouncy and I can not wait to try to talk about NOVABLAST 2. 
Check Price Amazon
---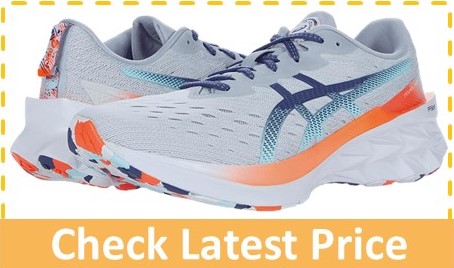 NOVABLAST 2 comes with some upgrades of NOVABLAST. The major change between NOVABLAST and NOVABLAST 2 is it's upper. 
Where breathable mesh upper has been used in NOVABLAST, it's upgraded version NOVABLAST. Novablast 2 has used engineered mesh upper which provides better performance than the previous model. 
Engineered mesh upper improves the breathability of this shoe. This shoe also uses guidance line technology on the bottom. Which actually follows the normal progression of the foot from impact to toe-off.  The technology used in the shoe moves the foot naturally to encourage a more consistent running stride. 
In the case of NOVABLAST 2, the FLYTEFOAM Blast cushion component is protected with a more distorted construction that allows the paramedics to feel a more responsive bounce with each step.
It's a great neutral running sneaker. This means that in this running sneaker your feet land on the outside of the ankle and then roll inwards absorbing the impact on the body. 
Check Price Amazon
---
Coming in number 4 we have got the Adidas Ultraboost 21 which is the latest performance running sneaker of Adidas Ultraboost. 
So I actually debated putting both the Ultraboost 21 and the Ultraboost DNA on the list. But because this list is more of a running focus list I decided to put Adidas's more running focus sneaker on the list. And that of course is the Adidas Ultraboost 21. 
However, if you are looking for a more lifestyle-focused UltraBoost I feel like the Ultraboost DNA is just a better-looking sneaker overall. The UltraBoost 21 is definitely a running sneaker that maximizes comfort. This is the kind of shoe that you wear when you really have a lazy day or you need a lot of cushions. 
The Boost midsole of this sneaker is really thick, this is a thick boy. And it feels great underfoot. If you try Boost sneakers before you have a good idea of how the sneaker is gonna feel on your foot there's just a lot more Boost that's gonna feel a little bit more comfortable. 
When preparing this super breathable, super soft, and super stretchy knit upper with this crazy thick Boost midsole you get a shoe that feels very comfortable on foot. 
Now I know there's a lot of runners out there who don't love Ultraboost because they feel like Ultraboost overtime bottom out. And yes I noticed that myself.  
When it comes to pricing the UltraBoost 21 is definitely one of the most expensive shoes on the list. However, if you don't mind wearing an older version of the UltraBoost like maybe the UltraBoost 20 or UltraBoost 19 maybe you don't mind grabbing a great colorway UltraBoost DNA you can find pairs on sale. 
In my opinion, the UltraBoost 21 is the most comfortable UltraBoost yet. And if you love UltraBoost and you love UltraBoost style comfort the UltraBoost 21 is a definite buy. 
For your kind information, we want to let you know that we also have a detailed review of adidas Kaptir.
Check Price Amazon
---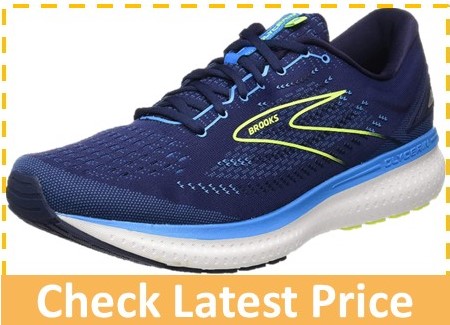 Coming in number 5 we have got one of the top-rated running sneakers on today's list. And that's Brooks Glycerin 19.
When it comes to pure performance running I can't take off a shoe that's got better reviews than the Brooks Glycerin 19. This shoe is like the perfect neutral running sneaker.
Glycerin 19 features a very soft cushion underfoot. It's also not too soft. So it never gets mushy and also never gets unstable. But it is also prepared with this really nice engineered mesh upper. 
What is my personal favorite part about the Brooks Glycerin 19 is this very nicely padded upper that also has a nice internal heel counter that really locks you into place.
And there is a reason why the Glycerin 19 or I guess Glycerin running line is generally one of the most popular running sneakers out there. Because this shoe is a perfect do everything sneaker. 
This DNA loft cushion which is Brooks proprietary midsole technology is great for doing everything about midsoles. I love it. It's really comfortable underfoot. It does exactly what you need to do. It's springy enough and it's not too soft. But it's also definitely not too hard. 
Whether you are someone like me who is a very casual runner or someone who takes it a lot more seriously I think the Brooks Glycerin 19 is probably the best running sneaker on today's list.
No, it may not be the most aesthetically. But as for sneakers that runners recommend, the Brooks Glycerin 19 is definitely towards the top of the list. If you are looking for a good running shoe you can't go wrong with the Brooks Glycerin 19. 
Check Price Amazon
---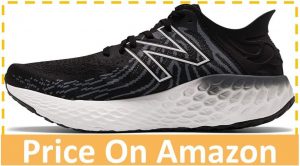 Coming in at number 6 is another New Balance, the New Balance 1080v11. So, this shoe is the newest  1080 for 2022 v11 and has its iterative improvement over the previous 1080s. 
Obviously based on the way that this shoe looks it's definitely a snug performance sneaker and I think even those are very aggressive-looking shoes. It could easily be one casually. The upper of this shoe comes with a very soft nick material which I love. It's very breathable, it's very soft on the foot. 
But as we back on the sneaker the nick gets a little bit to stay forward. For that add stability around the midfoot. If you are looking for a running shoe that offers both heel and front foot padding when running it can be the right way to go.
This New Balance Fresh Foam 1080v11 Running shoe provides luxurious comfort for long-distance running. It will provide you with soft and smooth running shoes featuring a stretch knit upper with a share of fresh foam on the soles of the feet, which gives complete comfort for high mileage.
The Ultra Heel technology of this running sneaker will help to hug the back of the foot with a snug, supportive fit that you will feel at every step.
But in my opinion, the best feature of the New Balance 1080v11 is the super thick Fresh Foam midsole. This midsole is incredibly soft underfoot and also very springy. So you definitely get some bounce back when you run in this sneaker.
I don't think this shoe is as light as the Hoka Clifton 8  but it's definitely close and it's definitely one of the lightest shoes on today's list.
In my opinion, 1080v11 is probably the best performance running sneaker that New Balance makes. If you compare the performance of this shoe with the price it's not the most expensive. And if you are looking for a max cushion shoe that's not too heavy, Fresh Foam has recovered. 
Check Price Amazon
---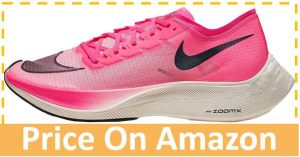 So, number 7 we got the Nike Vaporfly Next% 2. It is one of the best Best Lifestyle Sneakers. How do I put it? This shoe is stupidly comfortable and makes you feel like you are flying. It's crazy.
The Nike Vaporfly Next% 2 is probably the shoe that you wanna be leaching up for race day. 
This sneaker is incredibly high tech and it's kind of Nike's flag shape marathon day running sneakers. Nike ZoomX Vaporfly Next% 2 is first of all a crazy long name for a sneaker. But it's also the second edition of Nike's ZoomX Vaporfly Next%. 
This shoe features a couple of performance improvements. But the main mid of these sneakers are still the same and that's the full-length ZoomX midsole.  ZoomX is by Nike's softest cushioning technology and it's also probably the softest cushion on the market.
Not only that, but you also get these carbon fiber shank plates that are all that propels you into the next step. It's one of those shoes that feels like you are landing on a cloud and getting propelled into the future. It's Crazy! 
The upper of the shoe has also been slightly redesigned and it's apparently more breathable and lighter weight than the original shoe. It comes in an engineered mesh and feels like you are not really wearing anything on your feet, it's crazy. 
So, it's also a pretty good-looking sneaker. If you are into race day aesthetics I think it's a great-looking shoe. It's very modern, it's very fast looking. And if you don't mind wearing a shoe that looks like you are wearing a marathon day shoe then this is a great sneaker to pick up. 
This is the shoe that I think you really should only pick up if you are a marathon runner or if you are someone who guides a race coming up. 
But hey, if you are just like me and you just love perfectness when it comes to running sneakers or wearing a shoe that is incredibly soft underfoot this is not a bad way to go. 
Check Price Amazon
---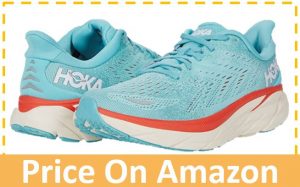 Next stuff of number 8 we got Hoka Clifton 8 which is very similar to Hoka Clifton 7. This is one of the best comfortable lifestyle running shoes. So Hoka own makes a lot of incredible running sneakers as they do. Also, I think it looks pretty great. 
In fact, a lot of their sneakers could be on this list. But the reason that I pick the Hoka Clifton 8 or in this case Hoka Clifton 7 is because, in my opinion, this is the perfect mix of everything. Aesthetics, comfort, and running performance. 
The Hoka Clifton features are very aggressive looking. EVA midsole which is incredibly soft underfoot and also stupid lite like this shoe is one of the lightest shoes on the list.
And personally, I just loved the way these sneakers look. I think that's a really cool way to explore some of the colors. This is a great-looking sneaker. 
Because of the thickness of the EVA foam and the density of the foam, it's very soft underfoot. And it is a very comfortable shoe that you can wear all day. And it also will give you a couple of inches if you are a short person. 
When you wear this EVA midsole with an engineered mesh upper which is incredibly breathable and again very light you get a very comfortable shoe that's very easy to run. And because it's got such a wide base it's also a very stable sneaker and a great neutral running sneaker. 
And if you are looking for a lightweight and very comfortable shoe at a reasonable price, then Hoka Clifton 8 or Hoka Clifton 7 is a great way to go. 
Check Price Amazon
---
And number 9 we got sneakers technology. And honestly, a sneaker that I never expect to be on the list. And this Adidas 4D Forward. 
So, for years Adidas has been finding tunning and working on their 4D or 3D printing midsole technology. And honestly for the last couple of years haven't seen like anything more than again it. 
But, now about three to four years in the life spend on the Adidas 4d technology(link) I feel like they have really heated their stripe. No, but intended I feel like the 4D Forward is one of the best. If not the best 4D printed Adidas sneaker that they have ever released.
So the reason that this 4D sneaker is better than pretty much all of the other 4D sneakers listed for performance running is because they changed up the 3D printing pattern. 
For the last couple of years, I found 4D printed shoe kind of Stef someone uncomfortable and never felt that soft or really felt like he was doing anything and any of their feet other than supporting you. 
But now the 4D Forward is the shoe that actually literally prepares you forward because of the way that midsole is printed. Now obviously that's the reason for the name of the shoe 4D Forward.
But the way that this technology actually works out is that when you step down in the shoe it kind of lines the shoe Forward which is actually short of propels you into your next step.
Not only that but they are also wide in the gap between this 3D printed pattern which means there is more space to compress. So does feel a lot more comfortable underfoot. In Fact, it was a very comfortable shoe. I was genuinely surprised. 
In addition to this crazy 3D printed midsole, you have also got this incredible primer upper which really hugs your foot. It's extremely breathable and it is very comfortable. It actually feels like a Saikopiar sock over the top of your socks.
All of these pairs together create a very capable running sneaker that looks insane. And I mean this is probably the most futuristic shoe on this list. I mean you are wearing a 3D printing sneaker! That's insane. 
I have always been a huge fan of 3D printing when it comes to rap it prototyping and industrial design that something I do a lot of. But I was never really a fan of art in production products. 
But this shoe minded genuinely changed my mind. I think Adidas did something that they couldn't have done before. I think this shoe is incredible. I mean seriously the static of this sneaker is wild. If you are not too freaked up by the Trypophobia go in on the midsole, It's a great-looking sneaker. 
And I can guarantee you if you are looking for a shoe that can attract attention, this is the one to grab. Because this shoe is truly futuristic.
So unfortunately Adidas has released a limited number of these 4D Forward shoes. And I am sure Adidas is gonna produce a lot more of this. So if you have the chance to grab them don't miss it. Grab it right now.
But Again, if you are looking for a shoe of the future that will blow your mind this is the one to get.
Check Price Amazon
---
Number 10 we got the New Balance 2002r. This is one of the best lifestyle running sneakers. So, this shoe is essentially the arrival of the 2010 running sneaker classic from New Balance.
So this version of the 2002r is a special edition collaboration version. But I have got to say that really these shoes are how good this looks and how nicely designed and performed this sneaker is. 
New Balance is always dedicated to helping athletes to achieve their goals. It's been a New Balance mission for more than a century.  It's the reason why they don't spend money on celebrity endorsements which they spent on research and development.
Not only fear, but I am also a huge New Balance head so I am gonna love pretty much anything that is put out. But this one really stands out for a lot of different reasons and not only that it's also a good running sneaker.
Now if you are not actually a fan of the way that 2002r looks you could also pick up the new balance 99dv which you love to wear for a run. 
Both shoes work well for you. But I want to inform you that 2002r is more of a running focus sneaker and 99dv is more about lifestyle sneakers. Actually, I'm giving you the link below if you guys wanna check either of these shoes out.
The 2002r comes with an absorbent midsole which feels pretty decent underfoot. The Cushioning is not gonna blow you away but it's definitely good for everyday wear. 
Not only that but New Balance says these shoes feature stability well outsole. Which is not exactly sure what that means if you might have to do something with a midfoot shank plate which parently adds some nice arch support. I have got it very nice underfoot. 
But realistically I don't think the outsole does anything too different from any of the other sneakers on the list. And if you prefer slightly more firm running sneakers it might be the way to go. 
But the reason I love the 2002r is that I just feel like it is a really beautifully designed sneaker. I think any colorway you get of this shoe you gonna look good at it. Especially now that's the modern red show running sneaker aesthetic coming back.
This shoe is a unique and versatile New Balance lifestyle running sneaker that is designed for your 247 styles. The new 247 for men takes inspiration from the New Balance 2002  v1 and updates it for the present.
These New Balance lifestyle running sneakers offer endless style features for your busy schedule, like an updated midsole and collar strap.
I think you can rock this shoe pretty much anytime you want either it's running or just for lifestyle wear. This shoe is incredibly versatile. Also the upper is really nicely padded. So, If you like nicely cushioned uppers you are good to go on this shoe. 
This is a pretty midrange price especially for some of the shoes on this list. I don't think you can go wrong with New Balance 2002r.
Once again if you will buy to grab any of these sneakers we talked about in this article or even some of the ones that we have not talked about just make sure that you will buy by clicking on the button given below. 
And always thank you for reading this article and if it is helpful for you, then you must share with your friend
Check Price Amazon
N.B: Having Multiple sneakers from the same company among the sneakers we choose doesn't mean that we have preferred it for Nike, Adidas, New Balance, or any popular brand. We have given each sneaker a place in this list for some of its special features. Thanks Again.